Boston offers some remarkable places to live whether you're looking for something practical or just daydreaming about your next #dreamhome. Today, We're looking at 10 incredible luxury properties scattered about town and arranging them by their sale price. We'll also throw in some brief commentary to save you some time tracking down the features and benefits of these sweet luxury pads.
Without further ado, here's our countdown of 10 of our top picks for luxury properties in town...
10. 500 Atlantic Ave Unit 20E
$3,649,000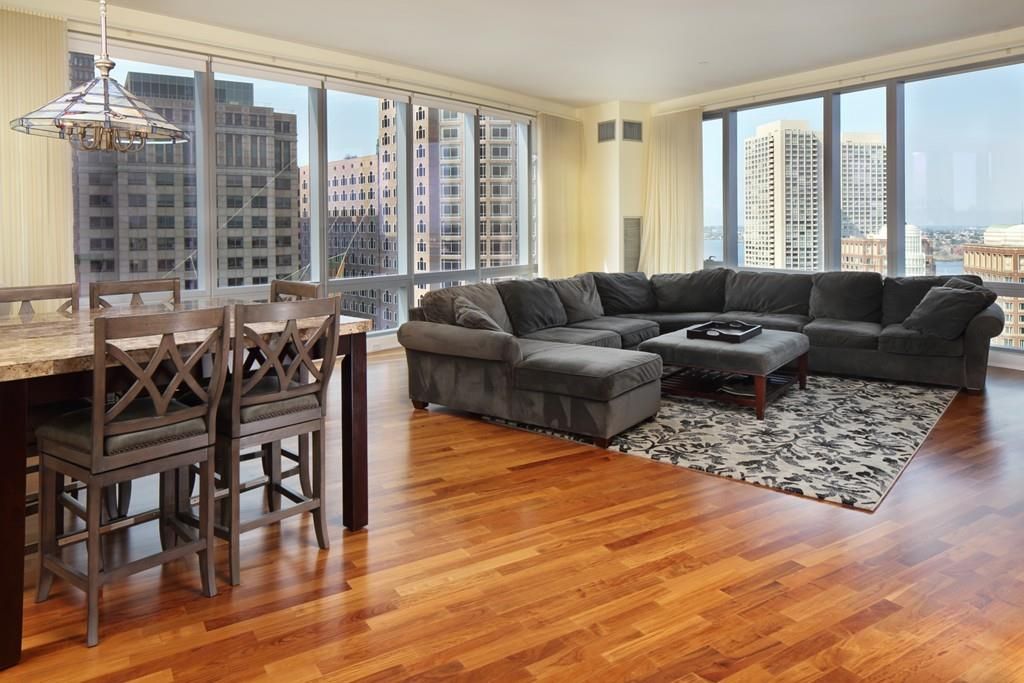 The Boston housing market is constantly changing with new properties being added to the list of the elites almost every day. The listing here from 500 Atlantic Ave comes as a newcomer to our list of 10 luxury places as its place in the legendary Intercontinental has finally opened to prospective homeowners and daydreamers alike. Located by the scenic and developing Boston Seaport, residents of this building can never lose when it comes to finding a great view of the city. On one side you've got the beautiful waters ushering out your view into a beautiful horizon and, on the other, you have the hustle and bustle of our thriving city at your back.
But that's just the view - what you really want to pay attention to is the fact that this property isn't just an average listing within the Intercontinental. This is a fully tricked-out penthouse! Residents of this place get access to 3 beautifully-designed bedrooms (the master bedroom being one of the most luxurious we've seen out of properties listed in this price range) and 4 pristine/spacious baths. Catch the custom wood floors running throughout this home and don't be late to cash in (or dream-in!) on this truly luxurious place to live.
9. 129 W. Newton St.
$3,670,000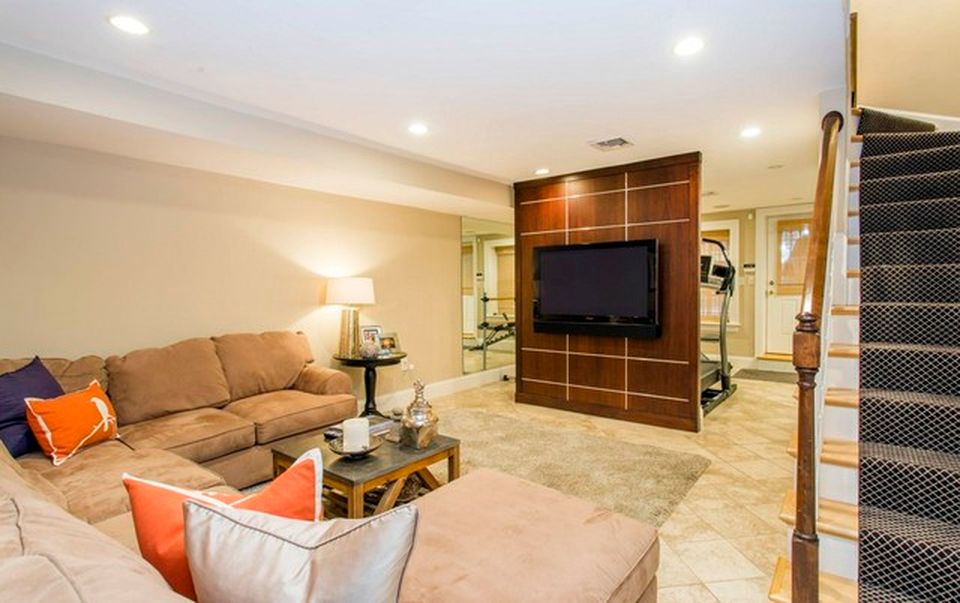 Coming to this list as another newcomer, 129 W. Newton is a luxury home by every part of its definition. Offering residents 3 bedrooms and 4 baths, the home comes equipped with a wonderfully up-to-date kitchen tricked out with a modern and customed designed feel. Likewise, the private office feature in this property feels like a getaway from the city and the rest of your home, offering a wooden aesthetic with plenty of storage space and room to fill with all your needed materials. Finally, the private balcony here looks out onto a scenic view of the city skyline and serves as the perfect location for outdoor hangouts during warmer seasons. Overall, this place is the perfect mixture of old and new type luxury styles with accommodations which, at this price, will blow any luxury homebuyer's mind.
8. 423 Beacon St.
$4,149,000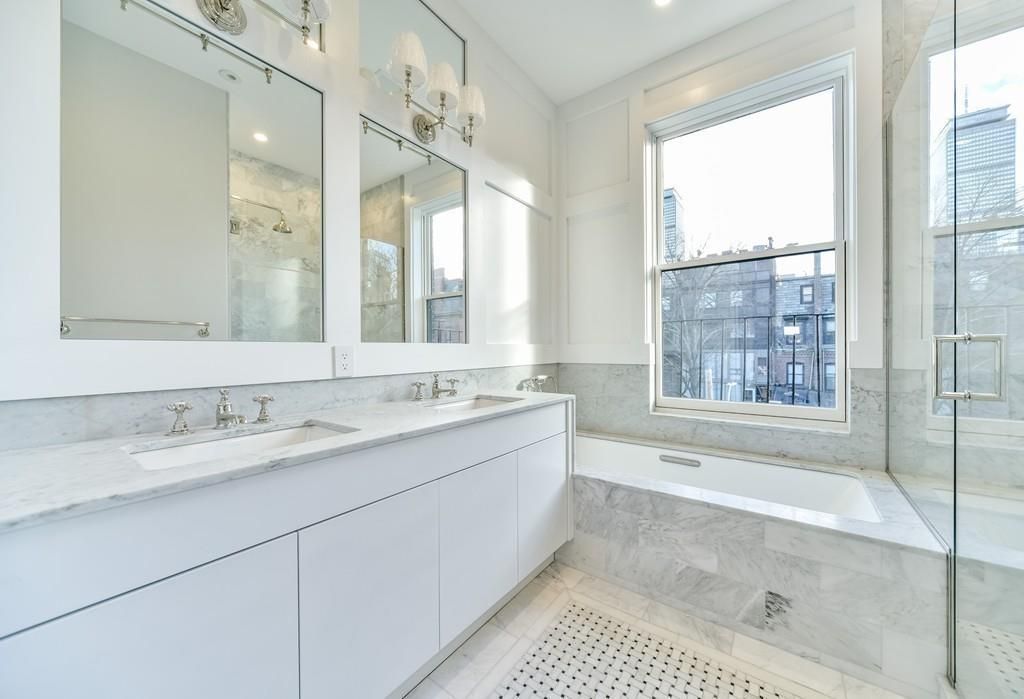 Located in the heart of Back Bay, this property offers the Penthouse experience with new designs and renovations on the way. You read that right: This property is being sold currently but is still in development with plans for a wet bar, private roof deck, and spacious master suite all on the way. The kick-off for this property is planned for some point this month after having come off the market for lower than its asking price.
This is your chance to catch on to a fresh luxury experience in a fantastic area!
7. 1 Franklin St. #3904
$4,200,000
Millennium Tower is no joke to those on the Boston luxury property scene. Standing tall in the heart of Downtown Crossing, Millennium offers their residents a plethora of 5-star services including exclusive access to a two-story Club for owners, access to private dining and bar service, a screening room, a billiard parlor, a library, a children's playroom, and the largest residential-only fitness area. And we haven't even written about the property yet.
This pad features wide oak plank flooring which runs the space between a fully state-of-the-art kitchen area with gas cooking and two marble-finished bath areas. As a resident here, you'll have access to several walk-in closets, a luxurious open floor living room, and a wraparound view of downtown Boston from which you'll see a vibrant theater district just waiting to be explored.
6. 185 W. Brookline St.
$4,499,000
A very vogue, very upscale interior awaits within this unassuming property accessible at street-level. Inside you'll find a remarkable white-wall design with ornate finishes applied to the multiple marble fireplace mantles within, the true granite kitchen counters, and the slim yet elegant stairway which climbs to a spacious media room and the master bedroom. A private patio ties this property together, offering an open view of the South End of Boston with hedges for personal privacy. The icing on the cake? This property includes a 1,000 bottle wine cellar in its basement.
5. 45 Province St. Apt. 2502
$4,499,000
There's not much left to ask for when a property comes with a private terrace, spa-inspired baths, and wrap-around views of all the Boston hotspots between Back Bay, Boston Common, and the North End. Add on the wonderfully open design thanks to large-view windows and the sense of privacy included in this spacious design - this property is only one of two inhabiting the 25th floor - and suddenly the relation between luxury and cost in this place becomes clearer.
Coming directly from a 2009 design, the custom features of this property only add to these benefits. The kitchen comes fully upgraded with professional-grade cooking ware while the bathrooms remain spacious and elegant enough to convince you you're living in a five-star hotel. The master bedroom is equally spacious, offering a beautifully-designed space which enters the private terrace - a spot you will not want to miss during those warmer seasons.
4. 500 Atlantic Ave Unit 20B
$4,995,000
Every now and then people will use the term cutting edge when referring to the way a style sticks out to them or urges their inner desires to go more modern and more toward aesthetic. The Atlantic Ave Unit is the embodiment of this term offering a sense of unparalleled interior design met with stunning views of Boston's Financial District and the Seaport. Built in 2008, this property perfectly captures the modern sentiment between its custom kitchen cabinets, custom closets, custom lighting, and much much more. This is one of two listings made within The Intercontinental and, as such, it comes with all of their amenities such as a 24 hr concierge, a spa and fitness center, and a massive indoor pool.
When it comes to the specifics, this property offers three and half baths, the master bathrooms being finished with luxurious marble. The three bedrooms of this space feel spacious, luxurious, and masterfully made with the master suite coming equipped with radiant heating needed for those harsh Boston winters.
3. 168 Beacon St. Unit 1
$5,490,000
Tucked away from the action of a thriving Beacon Street, this unit hides behind wonderfully-tended greenery, functioning as your elegant escape from the hustle and bustle of a busy city life. 168 Beacon Street is a three-bedroom duplex built around a lush private garden. With wonderful marble-finished bathrooms and high-rising ceilings, the class behind this property strikes anyone taking a quick peek through its images. The clear-painted walls and beautifully matched carpeting make residents feel as though they're living in a dream or a cloud or some other fantasy neatly tucked along Boston's Waterside Beacon Street.
One of the most unique features to this property, however, is its inclusion of a large private terrace wrapped within a canopy of green delight. When the trees and flowers are in full bloom, you'll find yourself making the most of this space as it creates a private, natural feeling rarely found outside of city-based luxury properties.
2. 2 Avery St. Apt. 33E
$6,295,000
This is the sort of image you would see out of a magazine cover or any Google search of luxury homes. The Avery Street home first impresses our buyers because of its location in the famous Ritz-Carlton towers overlooking Boston Common but also because of its patio which captures a great scenic view of Downtown Boston from all angles making residents feel like they're stepping into a photograph of the city each time they look out.
The expansive Master Suite comes equipped with his & her bathrooms along with separate walk-in closets. From beginning to end, the views of Boston permeate this home, capturing windows in the expansive-feeling living room, the gourmet-chef equipped kitchen, and finally, the three bedrooms matched with custom carpeting. Top it all off with a cozy-feeling library and this is Boston Luxury.
1. 9 Chestnut St., Boston
$6,995,000
The things that set the Chestnut Street property apart from other luxury pads are the ways in which this property ties an old-fashioned sense of class in with a restored feeling of elegance and charm. Complete with the accommodations of a wet bar, jacuzzi, and flourishing garden, this is a home which screams a sense of luxury style.
What sticks out to us are the renovations put in by the home's current owners - namely the effort to making a state of the art kitchen and to installing superb skylights which overlook the living room. These additions provide future owners with a sense of modern home-owning which perfectly ties to the home's picture perfect exterior. What else can we say? This place really pulls together the sense of living a high-class Boston lifestyle.